Alexander Edward MacDonald (1892-1976)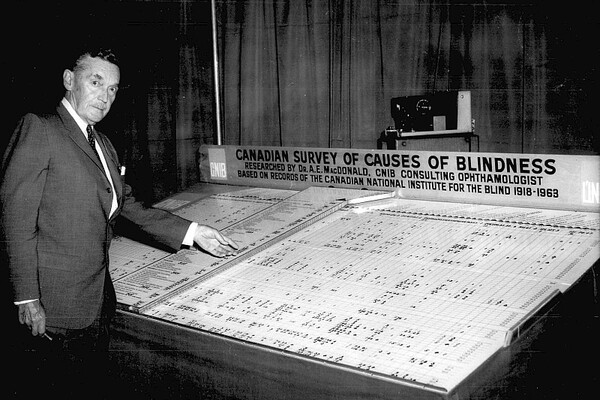 In 1924, the first ophthalmic pathology case was cosigned by pathologist William L Robinson[i] (1885-1953) and ophthalmologist Alexander Edward MacDonald (1892-1976).
MacDonald was primarily responsible for preparing all of the subsequent ophthalmic pathology specimens and in 1928 lobbied the government and the University for a laboratory dedicated to the subject. MacDonald and Robinson became the primary ocular pathologists for many Canadian provinces and worked together until 1940.[ii]
MacDonald was born in Hepworth, Ontario, in 1892, and was a medical student in Toronto at the beginning of WWI. He went to Europe before completing his training and worked as a corporal in a casualty clearing station. He returned to Toronto to complete his medical degree and then was positioned in France as Lieutenant in the Medical Corps in 1916. He was the first medical officer to cross the German border and reach the Rhine. MacDonald was awarded a military cross by King George V at Buckingham Palace for his efforts.[iii]
MacDonald returned to Toronto in 1919 and worked in pathology. After two years in British Honduras working as a medical officer during a yellow fever epidemic, MacDonald decided to pursue ophthalmology training. He trained in Boston and then in London, England, under Sir John Herbert Parsons (1868-1957) and Sir William Lister (1868-1944). He then completed fellowship training in Graz with Maximillian Salzmann (1862-1954) and Alfred Vogt (1879-1943) in Zurich.[iv]
MacDonald returned to Toronto in 1925 to work at the Toronto General Hospital. He petitioned for $150 in funding and space to set up an ophthalmic pathology laboratory.
During WWII MacDonald was an ophthalmology consultant to the Royal Canadian Navy and helped Wright to set up the postgraduate ophthalmic training program for the military.
MacDonald was the first chairman of the ophthalmic committee of the Royal College of Physicians and Surgeons of Canada and helped to established fellowship examinations. After WWII he became president of the Canadian Ophthalmological Society.
In 1967, MacDonald was awarded the Canadian Centennial Medal for having provided valuable service to Canada.
MacDonald was an authority in cartography. As a student in Paris he purchased a 16th century map of the Great Lakes, the first of a collection depicting the mapping of Eastern North America. In 1958 the Royal Ontario Museum held an exhibition of early cartography entitled "Up North – The Discovery and Mapping of the Canadian Arctic" from MacDonald's private collection[v].
MacDonald died in 1976 and his most significant legacy is his bequest to the Department of Ophthalmology of payments his estate received from the sale of his cartography collection to the Public Archive in Ottawa in 1981[vi]. The A.E. MacDonald Ophthalmic Library was named in his honour. The residue of his estate continues to support the ophthalmic library and ophthalmic research at the University of Toronto.[vii]
Further reading: