George Sterling Ryerson (1855-1925)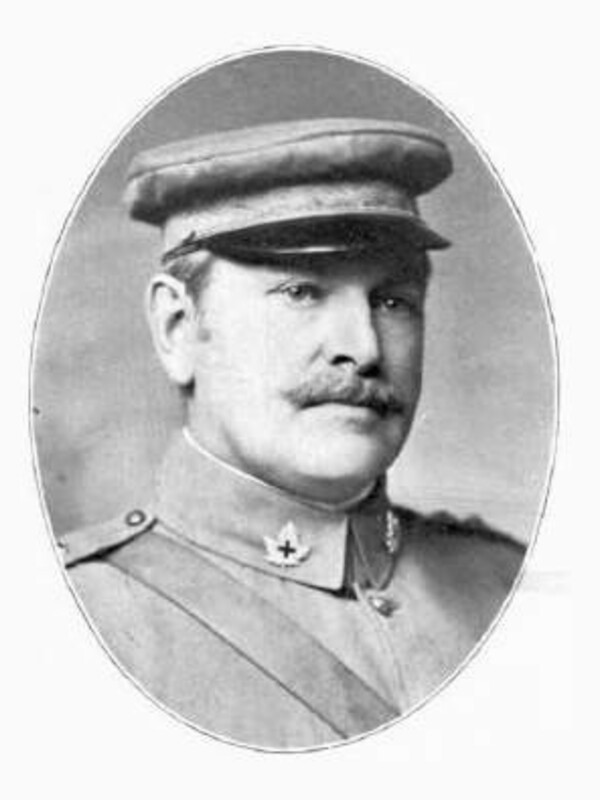 George Sterling Ryerson was born in Toronto in 1855 into one of Upper Canada's most influential families and went to school at Galt, Ontario. He studied at the Trinity Medical School in Toronto, receiving his MD in 1876. He then pursued post-graduated studies in Europe at Edinburgh, Paris, London, Vienna and Heidelberg. He returned to open a practice in Toronto in 1880 as an oculist, and was appointed professor of Eye, Ear and Throat Disease at Trinity Medical School. That same year Ryerson became a surgeon at the Andrew Mercer Eye and Ear Infirmary, the eastern wing of the Toronto General Hospital, located at 400 Gerrard Street East. [7,38]
Ryerson enlisted in the militia at the age of 15 and became assistant surgeon to the 10th Battalion of Infantry during the North West rebellion of 1885 in Saskatchewan. He dedicated much of his career to the Canadian military and was promoted throughout the late 1890s for his efforts. He was named honorary surgeon-general in 1915 and then honorary colonel of the Canadian Army Medical Corps in 1917.[39]
Ryerson founded the St John Ambulance Association in Ontario in 1895 and the Canadian Red Cross in 1896.
Ryerson recognized the importance of colour vision and helped to initiate mandatory testing in railway employees. He published details on rates of colour blindness in European and North American countries. [40] He was the first in Toronto to use cocaine topical anesthesia for eye procedures [7]. In 1911 he published in the CMAJ an address given to the American Association of Ophthalmology and Otolaryngology on the use of radium in ophthalmology to treat rodent ulcers, angiomas and epitheliomas of the lids and conjunctiva; sarcoma of the eye lid; trachoma and lupus of the conjunctiva and tuberculosis of the iris; and to relieve pain secondary to chronic uveitis. [41]
Ryerson retired from medicine in 1920 to Niagara-on-the-Lake where he wrote a memoir, Looking Backward, published in 1924 by Ryerson Press [42]. He died in Toronto of a heart attack aged 70 in 1925.