William Rawlins Beaumont (1803-1875)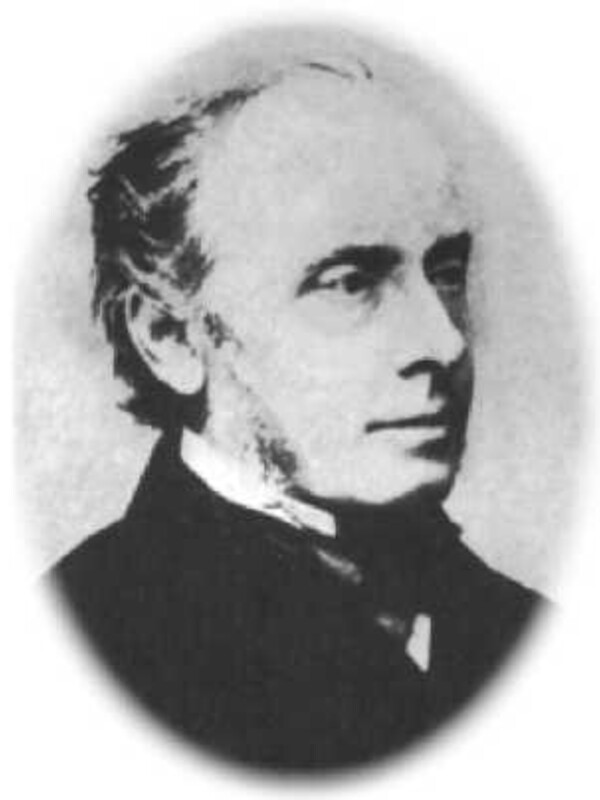 William Rawlins Beaumont is the first physician on record to perform eye surgery in Toronto. Beaumont was born in 1803 in London and studied with English surgeons John Abernethy (1764-1831) and Sir Astley Cooper (1768-1841) at St. Bartholomew's. He was elected a Member of the Royal College of Surgeons of England in 1826, and a Fellow in 1836. At Bartholomew's he became great friends with then-student James Paget (1814-1899), who would praise Beaumont's surgical inventions.
Before moving to Canada, Beaumont invented an instrument to sew together the edges of vesico- and recto-vaginal fistulae. This design is claimed to be the origin of the Singer sewing machine, first seen by Isaac Merritt Singer (1811-1875) in a surgical instrument maker shop in New York in the early 1800s.
Beaumont also invented instruments for passing sutures in "deep-seated parts" for cleft palates; a lithotomy knife; a speculum; an instrument to tie polyps; and iris forceps. He authored several essays on fractures, tumors, vascular aneurysms, and penetrating orbital injuries, and was considered an international contributor to surgery and medicine.
In 1841, Beaumont moved to Ontario from London, England. He was granted a license to practice from the Upper Canada Medical Board in November 1842. Beaumont was appointed the first Professor of Surgery at the University of King's College, in 1843, the first medical school of Upper Canada. At the time 20 physicians worked in Toronto serving a population of 15,000.
In December 1851 Beaumont described and published the results of 13 complicated ophthalmic surgeries successfully performed in the 1840s, and became known in Toronto as a leading eye surgeon. On October 25th 1844 Beaumont recorded the details of a cataract surgeryhe performed using an instrument designed by Austrian ophthalmologist George Joseph Beer (1763-1821):
"I operated by extraction, making with Beer's knife a section of the cornea, forming a flap of its outer and inferior half about one twentieth of an inch from the sclerotica," he recalled. "The pupil being well dilated, I passed the point of the knife through it, and opened the capsule at the same time that I made the section of the cornea, on the completion of which, the lens very soft and broken in pieces, was expelled with a small quantity of vitreous matter."
Beaumont used Belladonna to achieve pupil dilatation preoperatively. Three days later Beaumont described the patient's eye to be "very little inflamed, and the wound in the cornea apparently healed."
Beaumont also designed a pair of sliding iris forceps that would draw iris through a corneal wound without damaging the cornea. He published his description of these forceps in the Medico-Chirurgical Transaction in 1863, describing two cases in which they were used. Beaumont was elected a member of the Société Universelle D'Ophthalmologie in 1861 for his contribution to cataract surgery. His sliding iris forceps were placed in the museum of the Royal College of Surgeons in London.
Beaumont lost the vision in his left eye in 1865 to a chronic inflammatory condition thought to be glaucoma, which began to affect the vision in his right eye by 1871. He retired in 1873 and died in Toronto at age 72 in October 1875.