Chief, Sunnybrook Health Sciences Centre
Dr. Peter Kertes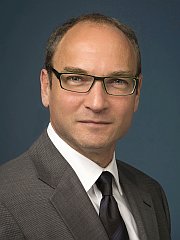 Dr. Kertes is Ophthalmologist-in-Chief at Sunnybrook Health Sciences Centre. He is a vitreo-retinal surgeon and specializes in the diagnosis and treatment of diseases of the retina, macula, and vitreous. He and his partners at Sunnybrook are involved in a number of clinical trials seeking better treatments for such diseases as Age-Related Macular Degeneration, Diabetic Retinopathy, as well as several surgical studies designed to help optimize the outcomes of retinal surgery.
Dr. Kertes has a special interest in international ophthalmology, notably in the realm of pediatric retinal diseases such as Retinopathy of Prematurity. He has traveled widely in the developing world volunteering his services and expertise.
He is an important contributor to the post-graduate education of ophthalmology residents and retinal fellows through his service as a Professor in the Department of Ophthalmology & Vision Sciences at the University of Toronto.
Past Hospital Chiefs:
1987-2010 Dr. William Dixon
- 1987 Dr. John Speakman