Service Chief, Ophthalmic Pathology
Dr. Yeni Yucel 
Appointed January 2013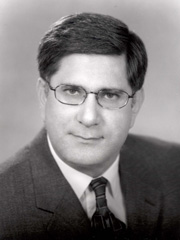 The service is directed Dr. Yucel, a certified pathologist specialized in eye diseases and tumours. Dr. Yucel is also a scientist with an active research program on translational ophthalmic pathology. His team's research achievements include seminal discoveries including brain changes in glaucoma, and lymphatic drainage from the eye that were recognized by awards from Glaucoma Research Society of Canada, World Glaucoma Association, and New York Academy of Medicine. 
He serves on many editorial boards scientific journals and was elected to serve as the Chair, Pathology Section, of the ARVO Meeting Committee. 
For details on Dr. Yeni Yucel, please refer to his Faculty Members page.