James Metcalfe MacCallum (1860-1943)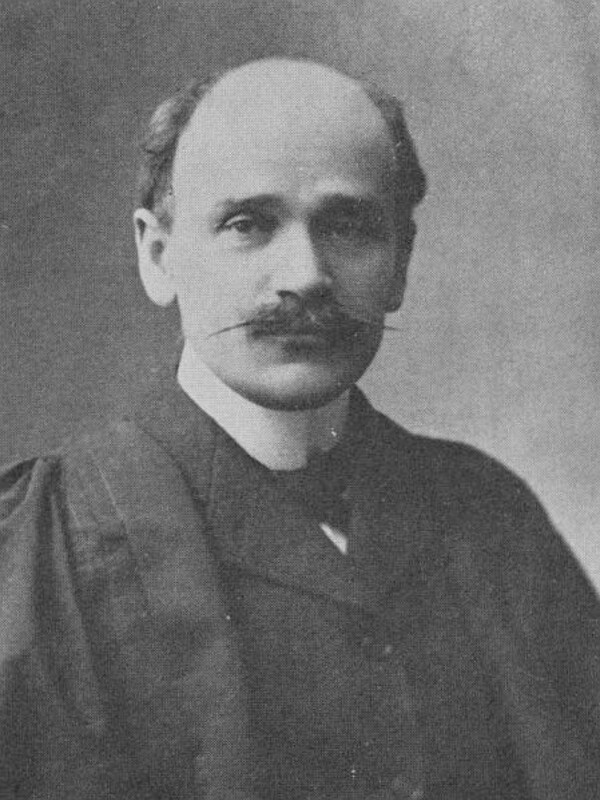 James Metcalfe MacCallum [49] succeeded Reeve in 1914 as Chair of Ophthalmology and Otolaryngology at the University of Toronto Medical School. He was born in 1860 in Richmond Hill, Ontario. His father, a Methodist minister, was posted to a mission that extended up along Georgian Bay, an area of Canada to which MacCallum remained devoted. [50]
MacCallum received his BA and a gold medal from University College in 1881 and completed his medical degree from Victoria University in Toronto in 1886. He studied ophthalmology in London for two years and then returned to Toronto to practice. He returned to London and Berlin for further postgraduate studies and in 1903 was appointed associate professor in the Department of Ophthalmology at the University of Toronto. He was promoted to full professor in 1909. He became the second Chair of the department from 1914 until his retirement in 1929. [7,44] MacCallum worked primarily at the Toronto General Hospital but also retained a staff position at the Hospital for Sick Children. MacCallum's ophthalmology publications include a case of recurrent swelling of the eyelids [51]; a case of exophthalmos in a neonate [52]; and the effect of artificial light upon the eye [53].
MacCallum represented the University of Toronto at the first meeting of the Medical Council of Canada in 1912. He was an active member of the council and became president in 1923. He also represented the University on the Council of the College of Physicians and Surgeons of Ontario from 1909 until 1930. In 1924, MacCallum presented the first paper on licensure to the Canadian Medical Association proposing "interprovincial reciprocity on the basis of uniform standards and accreditation by the Medical Council of Canada." [50] He recommended a minimum of five years of medical study including three years of clinical training.
MacCallum was progressive in the area of drugs and addiction. He lobbied for government control where addicts could be registered and supervised by a druggist, an approach similar to modern harm reduction programs. He also suggested the voluntary incarceration of drug addicts with a controlled supply of narcotics and published his views in the CMAJ in 1930. [54]
MacCallum's greatest contribution was to Art in Canada. As president of the Arts and Letters Club of Toronto from 1916 to 1918 he became friendly with a group of young artists, later known as the Group of Seven, who would initiate a change in Canadian art focusing on the Canadian landscape. [50] MacCallum hosted members of the group at his family cottage on an island in Georgian Bay, 40km northeast of Penetanguishene, to inspire their work.
In October 1912 MacCallum met Thomas John Thomson (1877-1917) and a friendship was fostered by their common dedication to Northern Canada. MacCallum supported Thomson's work in a time when he had little backing, and continued to provide both moral and financial assistance up until Thomson's death.
MacCallum also provided funds in 1913 for Lawren Stewart Harris (1885-1970) to build a studio in Toronto for artists doing distinctly Canadian work and repeatedly encouraged the group to continue in their quest to develop a truly Canadian art style. The Studio Building was designed by architect Eden Smith and completed in 1914. Located at 25 Severn Street in the Rosedale Ravine, it became a headquarters for the Group of Seven. Studio Building was designated a National Historic Site of Canada in 2005 for being the "earliest purpose-built artist studio in Canada". [55]
In 1915 MacCallum commissioned the Group to paint decorative murals on beaverboard panels inside his cottage that were given as a birthday present to Mrs. MacCallum in 1916. [56] The 21 panels were later donated to the National Gallery of Canada. [57]
MacCallum died suddenly in 1943 in his office of the Medical Arts Building, Toronto. [50] He left much of his art collection to the National Gallery of Canada including 83 paintings by Thomson, 40 by other members of the Group of Seven, and 11 by other contemporary artists. He also donated two islands in Georgian Bay to be held by the National Gallery of Canada in perpetuity "as a sketching ground for artists who might resort there." [49]
Alexander Young Jackson (1882-1974) donated to the National Gallery of Canada, on behalf of MacCallum, the complete collection of correspondences MacCallum had received from Thomson and members of the Group of Seven. This collection, the Dr James M. MacCallum Papers, can be found at their Library and Archives [58].